Projects in Samara (Russia)
.
The Eine Welt Association got in touch with Russia in 1991 through the action "Signs of expiation", namely with a summer workcamp in Samara. In the first year of opening the town for foreign visitors, we were involved in the commitment for an retired servicemens hospital. Next year there were already several members of our association coming to the former Kuybeeshev. While doing so, the idea of carrying out an independent camp came into being. We started to organise own contacts, accomodation and work in 1993. We have found a great help in Slava Baryshevsky, who discussed with us about the possible working areas and saw to all on scene of action. In the first two years we still used to have contact with the veterans of the war, then began the cooperation with the German-Lutheran and the Catholic parishes, respectively. Our activities have been varied since 1993. We helped to set up a garden belonging to an elderly home, we looked after a cemetery where German war-prisoners were buried, and we brought medical aid supplies to the local ENT-hospital.

Since 1996, our work has been focused on the German cultural centre and communities in Samara and in Sysran. Initially there were mainly architectural measures undertaken, for instance pulling down an old shed, clearing out the community's building or breaking through a wall in order to have better access to the church. During all these activities, it has always been very important to us not to stay on our own but to have contact with people from the community. We wanted to work together with them and not next to them. We could succeed on this more and more. Early in 1998, for the first time, we sent a volunteer to Samara for half a year. She stayed with a woman, whose handicapped son she took care for. She helped us prepare the summer workcamp, too. We could continue making these efforts in 1999 and in 2000, too. During the summer stays, we organised children's weeks, outdoor games and other group-activities.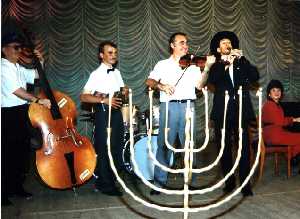 For three years we have got an intense contact with a children's home. In these years, when we have been organising the regular workcamps, we received guests coming from this city. They visited us with different backgrounds and interests. Medical staff worked in different hospitals here in Leipzig, a hat maker visited a trade fair in order to form contacts. Vyatsheslav Barysheevsky made the Russian culture more accessible to us with the help of concerts where he performed songs and lyrics from the Volga. Young people from Samara came to Leipzig for an international workcamp. After the successful tour of the group Aliya, another music group from Samara will visit us in 2002. For the future, we are looking for persons who are interested in a 6-12 month practical training or voluntary service. Besides, we plan to carry out further youth meetings during the next years. After 3 years of a long bureaucratic fight and a big amount of expenses, our partner-organisation was registered in 1999 by the name "Jedinui Mir-common world". We hope that it was worth it and it will be filled with life and a lots of good ideas in the future. Donations account: Eine Welt e.V. Leipzig; Sparkasse Leipzig; bank sort code: 860 555 92; account number: 1100 104 328; Code word: Russland If you are intersted in information or you would like to take part in the next workcamp, ask Sebastian Hundt. (Tel.: +49 341 30 10 143; mail: sebastian@einewelt-leipzig.de )